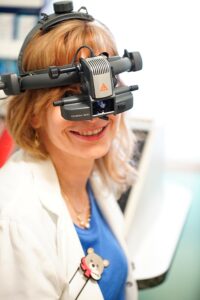 Dr. Andrea Papp is an ophthalmologist, pediatric ophthalmologist oculoplastic surgeon and `Wahlärztin`.
A "Wahlärztin" is a specialist with a private practice who does not have a contract with the health insurance company. Every patient can visit a Wahlärztin who issues a Honorarnote (receipt). The patient has to pay the doctor's fee, which is partly reimbursed by the health insurance company (OEGK, BVAEB, KFA) upon presentation of the paid invoice.
This means that the patient has to contribute to the cost of the treatment, but receives benefits such as shorter waiting times, detailed consultation and personal care in a relaxed atmosphere.
For patients with `Zusatzversicherung` (special insurance policy: supplementary insurance), the insurance company will cover the remaining part of the fee.
Your advantages
– flexible appointments on short notice via email (ordination@augen-papp.at) in English, German or Hungarian
– time for detailed examination and individual consultation
– state-of-the-art diagnostics, child- and age-appropriate examination techniques
– relaxed child-friendly atmosphere
– minimal waiting time
– detailed documentation: you receive a report for information and forwarding the findings to other doctors